In 683 Hubertus was a nobleman, not yet a saint.
He was young, of good, wealthy descent, and preferred the pleasures of the mundane life to the profession of his faith. Precisely on Good Friday, he went hunting in the forests of the Ardennes. Deep in the woods he found a particularly oversized white deer. The animal suddenly turned towards him…
FROM HERIT TO PATTERN SAINT OF THE HUNTERS
Hubertus consulted his bishop Lambert. He ordered him to do penance. Hubertus withdrew to the forest and led an exemplary monastic life. After a frugal hermit life, he in turn became a bishop and preached charity. After his death, he was canonized and, because of his encounter with the deer, declared patron saint of hunters, the forest and the environment. An impressive statue of a deer with a cross reminds us of the moment when his life took a turn.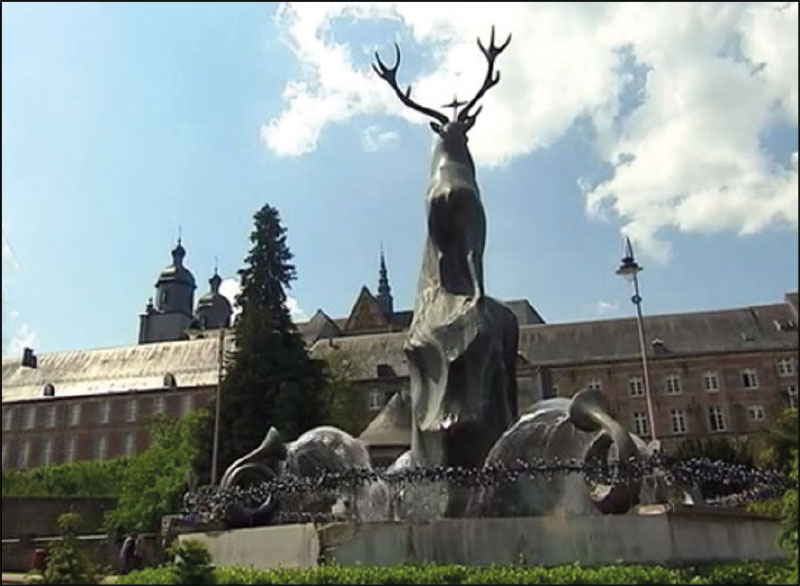 A DEER WITH A SHINING CROSS IN THE ANTHERS
Deep in the forest, nobleman Hubertus stood face to face with a gigantic deer. In a vision he saw a crucifix light up between the antlers, while a voice rang out: "Hubertus! How long will you continue to hunt animals in the forest? How long will this urge keep you from your soul destiny?" Haunted by terror, the stubborn youth promised to repent and lead a dignified life.
In 2018 a beer is christened in his honor, Saint Hubert.
The brewers of these times know that beer was brewed in this mythical place, at the foot of the Basilica of St. Hubertus. With great patience, dedication and know-how, they created honorable and precious concoctions. And just like in the rest of the country, they liked to make a vibrant story out of it.